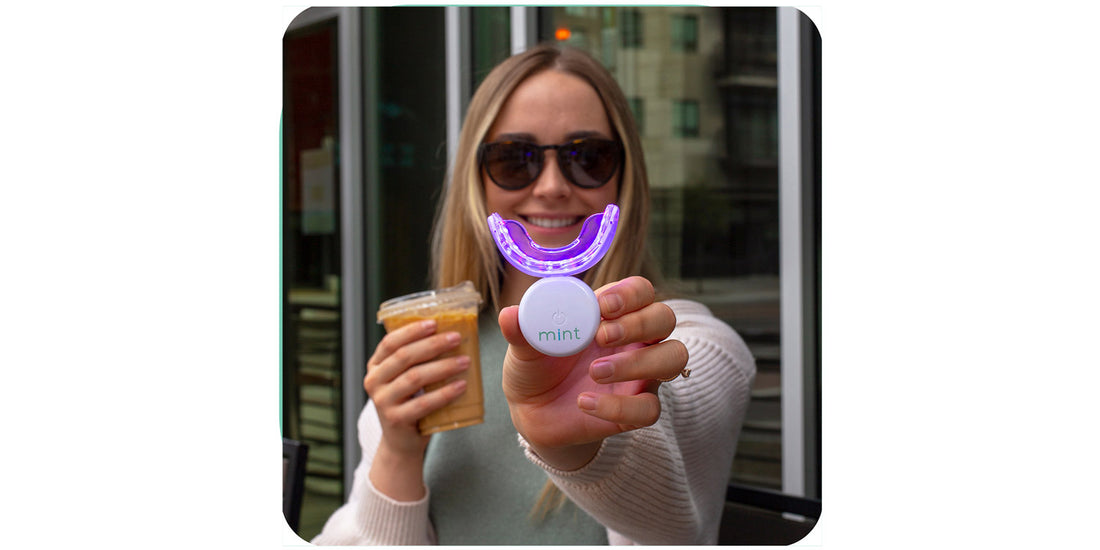 What Makes Mint Products So Fresh?
What Makes Mint Products So Fresh?
While zoom calls and masks may have protected your chompers from the public eye up until now, returning back to work, school, and 'in-person' society means that having white teeth has never been more important.

Today, teeth are the first thing that we look at. While many dental whitening brands promise glittering teeth, it may take weeks to achieve noticeable results. With a well-tested clinical formula, Mint products are not only a safe means to pearly whites; they also lead to fast results.

Mint products are FDA registered & manufactured in NSF ISO Certified facilities. They only contain ingredients that are proven safe for enamel. While competing companies may contain enamel-grinding ingredients, Mint strips and gels are free of abrasive chemicals and materials. This means less tooth sensitivity and better oral health long-term.

So, don't hold back on that second cup of coffee or glass of wine; Mint offers a safe, tested way of combating all of the stains that your teeth naturally accrue as you go about your daily life; plus, it does so effectively, and quickly (Cheers!).
The Proof is In the Pudding- and In Our Case, Gel!
Mint gel and teeth whitening strips contain 35% percent carbamide peroxide. Carbamide peroxide is water-soluble, and breaks down into hydrogen peroxide to safely whiten your teeth; it's a common ingredient used in clinical whitening procedures and is used in dentist offices all across the United States.

Because Mint provides the same percentage of carbamide peroxide in its products as most dentist offices, results happen just as fast (and for a fraction of the price). That means customers see whiter teeth the very first time that they use a Mint product.

Pairing fast-acting percentages of carbamide peroxide with products like refreshing and soothing essential oils and extracts, Mint's high-quality solution and strips are designed for at-home use. The only difference between Mint and other at-home whitening systems is that Mint's clinical formula works better and faster.
A Conveniently, Clinically White Smile
The inconvenience and expense of going to the dentist's office for white teeth is removed from Mint's formula, meaning you don't have to wait for a whiter smile. Literally.

Whether you're preparing for a work presentation or a polite trip to the grocery store, Mint delivers (fast).

In fact, all Mint products ship free with 2-3 day shipping in the U.S., meaning there isn't any wait for a professional, friendly smile. So fret not if you have any impending social gatherings (or just a lot of mirrors in your house).

At Mint, it's our hope that with all the extra free time that our products provide that you might take up more productive activities that help you smile more (Painting is a much better alternative to sitting in a lumpy dentist's office chair we think).

So whether you prefer the ease of whitening gel or the simplicity of whitening strips, Mint is ready to provide you with a convenient solution to less-than-optimal yellow teeth. Don't hold back your smile any longer- your pearly whites are on their way!
"45 years old red wine and coffee drinker. Thought no way my teeth will ever get white again. First pic was before any treatment. 2nd picture is after 1st treatment. 3rd picture is after 5 treatments. I absolutely love and recommend to everyone. I had super sensitive side teeth. Didn't bother me at all. And aren't sensitive anymore. Weird. But love it" - Kate S.
The Results Are In (and We Back Them)!
Our number one goal at Mint is for you to feel happy and confident. That applies to how we feel about your smile and how we feel about our brand.

Mint offers a 100% results or money-back guarantee; so if you could be happier with our products, we are ready to help.

Having said that, Mint customers are happier than ever, and the results look good (or should we say the reviews).

Mint customers can't stop smiling, which is why we have a cheery collage of smiles posted alongside our 5-star reviews on our Real Results page; when in doubt, check it out!
The Real Benefits of Having White Teeth
Mint products are the right choice if you're seeking an affordable, safe and effective clinical teeth-whitening experience from the comfort of your own home. Mint's gel kits and whitening strips provide fast, brightening results the first day that you use them.

Our formula works; this is supported by the research we've invested into making our carefully composed formula one of the safest and most effective whitening products on the market.

So if you want to glam up for that upcoming job interview, your first day back at school, or just for yourself, at Mint, we aim to support you in feeling your best. So no matter what makes you smile, remember that Mint is here to help you smile your best.

Keep things fresh!

- Mint
P.S. We know that scientific lingo can be a bit uninterpretable, so heres a chart that breaks down what makes Mint, well, Mint! Here at Mint, quality and safety are important to us, so we're happy to be transparent about all of the ingredients that we include in our products.
| Ingredient | What it is... |
| --- | --- |
| Carbamide peroxide                                                                                     | A common (but effective) whitening agent used in dentists offices all across the country |
| PVP | An ingredient that helps prevent new stains from adhering to teeth |
| Peppermint oil | A natural, essential oil that we include to freshen breath, lift stains and prevent sensitivity |
| Chamomile extract | A natural, essential oil that we include to freshen breath and prevent sensitivity |
| Raw coffee extract | A natural, essential oil that we include to freshen breath and prevent sensitivity |
| Ginseng extract | A natural, essential oil that we include to freshen breath and prevent sensitivity |
| Deionized Water | Purified water |
| Glycerol | A commonly used solvent; in other words, this ingredient helps everything in our formula mix together. |
| Carbomer | A thickening ingredient that helps our formula turn into an applicable gel |
| EDTA | A gel enhancement that helps keep our gel formula stable |
| EDTA-2Na | A gel enhancement that helps keep our gel formula stable |
| Triethanolamine | A pH adjusting agent that helps to keep our solution balanced |
Liquid error (sections/pf-2e8aa508 line 66): product form must be given a product